Better Weigh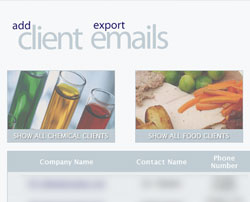 Bespoke System
Better Weigh are a company based in Leicester that provide weighing scales to both public and trade customers all over the country.
Better Weigh needed a system for marketing that would keep track of potential, current and past customers and all of their details. This is an amazingly powerful marketing tool as it keeps every important bit of information like client contact details, current business relationship, client business sector and we even incorporated Google Maps so if a Sales Person or Technician was going to visit the client they could see where they are based.
We then developed a Mail Merge so that with 2 clicks of a button they could print off letters and labels to customers within their requirements and send out a customised letter to each client with the latest offers, voucher codes and newsletters.
Better Weigh also wanted to send email shots as well as snail mail so we added a custom module that exported every client's email address and contact name into a piece of email software so that each client got a personalised email which looked professional.
All of our work for Better Weigh has saved literally hundreds of man hours in the last year and made keeping track of clients so much easier.