Clever Gas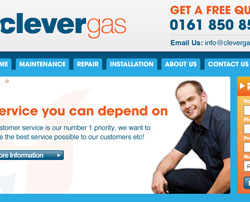 Website Design
Clever Gas Ltd are a heating / plumbing company based in the North West. They needed a website to promote their maintenance packages and services online to increase exposure and get their name out there.
We were approached by Clever Gas to design and develop a modern, striking looking website that would fit in well with their brand.
We developed a simple CMS system so that their site can be easily maintained as well as a video testimonials system so that video testimonials can easily be added to the site without any web development knowledge needed.
Link : Manchester Plumbers