Genuine Gifts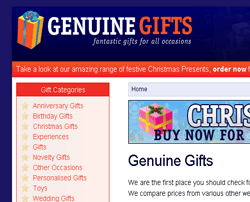 Website Design
Genuine Gifts is a website which lists hundreds of gifts for all occasions including Christmas, Easter and Birthdays.
The website was fully designed by us from scratch and we then developed a basic price comparison system which takes prices from eBay, Amazon and various UK stores to give the best deal on each gift to help the person using the site to get the best deal on their gift.
We have integrated Facebook into the product pages to encourage the sharing of products on Facebook which will then increase traffic. Each page is also optimised for SEO.
Link : Genuine Gifts