Genuine Motorcycle Parts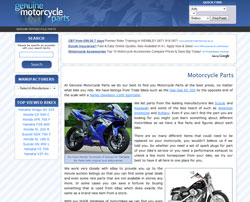 Website Design
Genuine Motorcycle Parts is an affiliate site that lists new and used parts for a wide range of motorcycles.
We were given a mySQL database populated with a list of motorcycle makes and models and were asked to create a site from this that would show all the different types of motorcycles and then publish adverts for the leading affiliate sites such as eBay and Amazon.
This site also includes geo targetting so that the site will only show adverts that are relevant to the user's country which helps increase conversions dramatically
We carried out SEO on Genuine Motorcycle Website and it now gets between 3000 and 4000 unique visitors per day.
Link : Genuine Motorcycle Parts