Love Smoothie Bike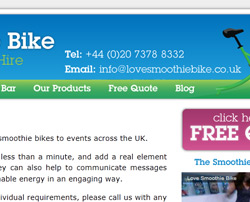 Website Design
Love Smoothies came to us as they needed a new website for the Smoothie Bike and Smoothie Bar part of their business.
We designed an energetic website that they are now able to update easily and keep up to date with a simple CMS. The CMS features a Photo Gallery, Testimonial Upload System so that new photos and testimonials can be added within a matter of seconds just using an internet browser.
To make it easier for the Love Smoothies staff to manage quotes and contact we developed a bespoke Quote Page which will instantly send the details to a sales team member who can call the potential customer straight away to give them an accurate quote.
Link : Smoothie Bike