Mac Keyboards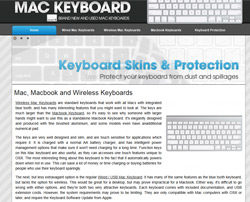 Affiliate Website Design
We designed an Affiliate Website that specialises in Apple Mac Keyboards. It gets automated listings from eBay, Amazon and a large range of other popular UK retailers such as Currys and PC World to ensure that the site brings in the largest amount of revenue possible.
We discussed the site specification and saw that it needed to be fast loading and attractive as well as fitting in with the "Technical" and "Smooth" style that Apple Mac computers have.
The website design was designed from scratch and uses a mySQL database to store all of it's information such as retailers and products and updates automatically every hour.
Link : Mac Keyboards