PH Plumbing and Heating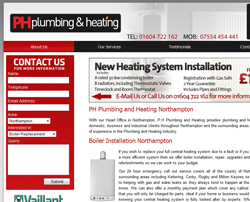 Website Design
Paul Harvey at P.H Plumbing and Heating was looking for a simple web site solution which he could manage himself without having to keep paying a developer to update it and make changes to the text whenever he got a new testimonial or offered a new service.
We spoke to Paul about what he needed and came up with a Bespoke Website which allows him to manage the pages himself easily by just filling in a Web Form.
As word of mouth is a great marketing tool we added a Testimonials feature which allows P.H Plumbing and Heating to manage the Testimonials and show just how much their previous customers value their services.
Link: Northampton Plumbers