Shoe Junkie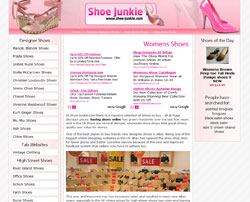 Custom Wordpress Design
Shoe Junkie is an affiliate website that specialises in designer shoes from the leading designers such as Prada, Jimmy Choo and Chanel. They also list high street designers like River Island and Office.
They needed a custom Wordpress template designing that would appeal to the female population as well as help raise the conversions from their Pay Per Click campaign. We designed a standard 3 column Wordpress Template which was Widget Enabled so that the owners could update this themselves. We also created the logo and some online marketing materials such as Banners for use on Facebook and Social Media link buying.
We also installed a geo targetting script so that the website automatically detects where the user is located and shows adverts, items and eBay listings that are available to them. This alone raised profits and conversions instantly.
Link : Shoe Junkie