Villa Cabopino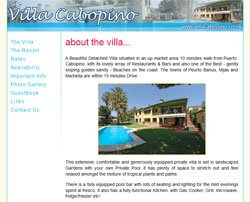 Website Design
Villa Cabopino is a classy villa in Puerto Cabopino in Spain but unfortunately the owners were missing out on a large chunk of the holiday market by not having a website.
We were approached by the owner of Villa Cabopino to design and build a website that would fit in with their existing promotional materials as well as show off their gorgeous Villa.
As this is a Villa and relies on Testimonials we developed a custom Guestbook script that allowed visitors to the villa to leave a message of their experiences just as a Paper Guestbook would in a hotel or bed and breakfast.
Link : Villa Cabopino